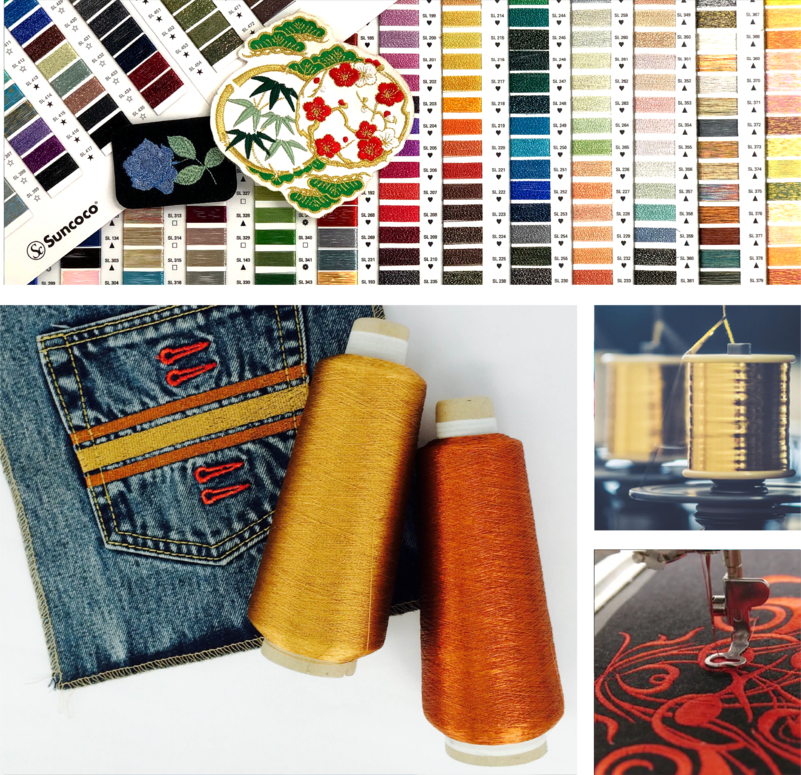 Suncoco ®
Suncoco is a leading manufacturer and your partner for quality embroidery threads, sewing thread and industrial yarns. Specializing in metallic embroidery threads, we offer tens of thousands of product varieties. We take pride in inspiring and empowering designers with endless color and texture possibilities for mass produced textiles and garments.
For more than three decades, we have been committed to suppling high-quality Japanese products for use on industrial machines. Appreciated by numerous brands and professional embroiderers around the world, we are happy to support you with top quality products and professional services.

Prestigious brands we've worked with includes :

Our Story
Suncoco is headquartered in Hong Kong with production sites in Japan where metallic thread and embroidery has been a valuable part of its culture.
The Suncoco brand was established in the 1980's under the name Sam Lung Trading Company Ltd. Originally, the company traded a variety of made in Japan textile products to the then booming textile and clothing industry in Hong Kong. Very soon, the quality of thread that the Japanese traditionally used for Kimonos stood us out from competitors. As a result, the company focused in expanding Suncoco as a novelty, industrial grade embroidery thread brand.

In the 1990's, to satisfy market needs, Suncoco expanded their lines to carry Wool, Cotton, Acrylic, Glow in the dark and other specialty embroidery thread together with a large array of metallic threads of different shinnies, textures and colors. Today, we are a global player with long term customers in Europe, the USA and Asia. The production plant is still located in the former imperial capital of Japan, Kyoto. We continue to innovate in aims to interweave traditional craftsmanship and embroidery heritage with the modern textile and apparel industry for mass production.
To this day, we view garments and textiles as an work of art. Our aim is to provide materials that adds an extra sparkle to end products cherished by consumers worldwide.